It's Halloween Baking Time!
Ingredients:
160g flour, I used half plain and half strong white bread flour 
1/2 teaspoon baking powder
1/2 teaspoon bicarbonate of soda
Pinch of salt
115g unsalted butter, softened 
100g caster sugar
75g light brown soft sugar
1 large egg 
250g smooth peanut butter  
3/4 teaspoon vanilla extract
24 Lindt Lindor chocolate truffles (or other chocolate balls) 
100g dark or milk chocolate 
48 edible "eyes" 
Recipe:
Whisk the flours, bicarbonate of soda, baking powder and salt together in a medium bowl. Set aside.
Using a hand mixer or a stand mixer fitted with a paddle attachment, cream the butter and both sugars together on medium speed until smooth, about 1-2 minutes. Add the egg and beat until combined. Scrape down the sides and bottom of the bowl as needed. Add the peanut butter and vanilla, then beat until combined.
Add the dry ingredients to the wet ingredients, then mix on low until combined. 
Cover and chill the dough for 1 hour in the fridge. 
Preheat oven to 160 degrees fan/180C.  Line 2 baking sheets with nonstick baking paper parchment paper. 
Roll cookie dough into balls, 30g of dough per cookie, you should get 24.  Bake each batch for 10-12 minutes until very lightly browned on the sides. The centers will look very soft.
Remove from the oven.  Immediately make an indentation in the centre of each cookie (I use the back of a measuring teaspoon). Cool cookies completely before decorating.  
Melt 100g of chocolate in the microwave or in a bowl placed over a pan of barely simmering water.  Transfer the chocolate to a piping bag, snip a tiny hole in the piping bag and pipe "legs" onto the cookies.  Place the chocolate truffle in the indentation, add tiny drops of melted chocolate to the top of the truffles and position the eyes.  
Let's Bake Together!
Our Face to Face Classes have now started.  Click Here to find out more.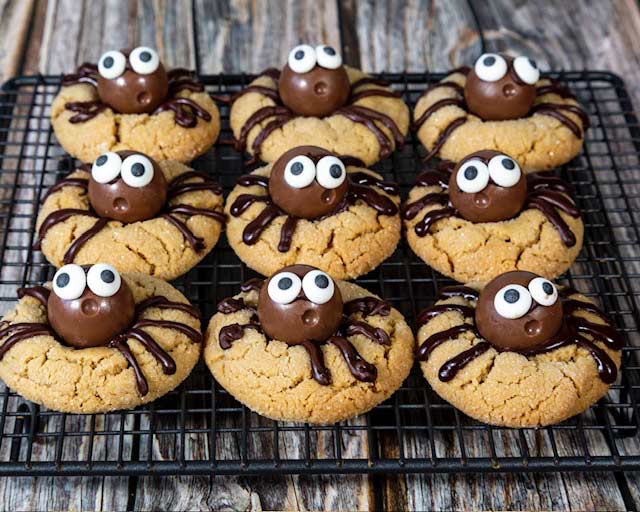 Address:
4 Wilkins Close, Shipston on Stour
Warwickshire, CV36 4GH
Follow Us On Social Media
Reservation Number:
07786 838294