Are you inspired to get kneading by Bread Week on The Great British Bake Off?
Here's the recipe for a Cottage Loaf I made from The Great British Bake Off website.
Ingredients:
500g strong white bread flour, plus extra for dusting
7g fast-action dried yeast
7g fine salt
1 Tablespoon olive oil
Sesame seeds, optional
Recipe:
Large baking tray dusted with polenta, flour, or lined with nonstick baking paper
Mix the flour, yeast and salt together in a large bowl. Make a well in the centre and pour in 300ml of water and the oil. Mix to bring the mixture to a craggy dough, adding enough of the remaining water to achieve a soft but not sticky dough.
Knead for 8–10 minutes, until smooth and elastic, shape into a ball and place in an oiled bowl, cover and set aside until doubled in size.
Turn out the risen dough onto a lightly floured surface and knock it back.
To shape the loaf, flatten the dough into a 25 x 20cm rectangle. Fold both short ends into the centre (like folding a business letter), then turn the dough through 90 degrees.
Flatten the dough once more into a rectangle, then, starting from one of the short ends, roll it up into a tight cylinder. Seal both ends by pressing down firmly, then tuck the ends under the loaf to form an oval-shaped loaf.
Place the dough seam side downward on a baking tray. Sprinkle over the seeds, if you wish, then dust lightly with flour. Using a sharp knife, make three 2cm-deep slashes in the top of the loaf at an angle. Cover and set it aside to prove for 35–45 minutes, until almost doubled in size.
Preheat the oven to 230°C/210°C fan. Put an empty roasting tin in the bottom of the oven to heat up. Put the risen loaf (on its tray) into the oven and pour about 100ml of cold water into the hot roasting tin in the bottom of the oven.
Immediately lower the oven temperature to 220°C/200°C fan. Bake the loaf for 30–35 minutes, until golden. To test whether or not the loaf is fully baked, tap the underside, it should be firm and sound hollow.
Let's Bake Together!
Our Face to Face Classes have now started.  Click Here to find out more.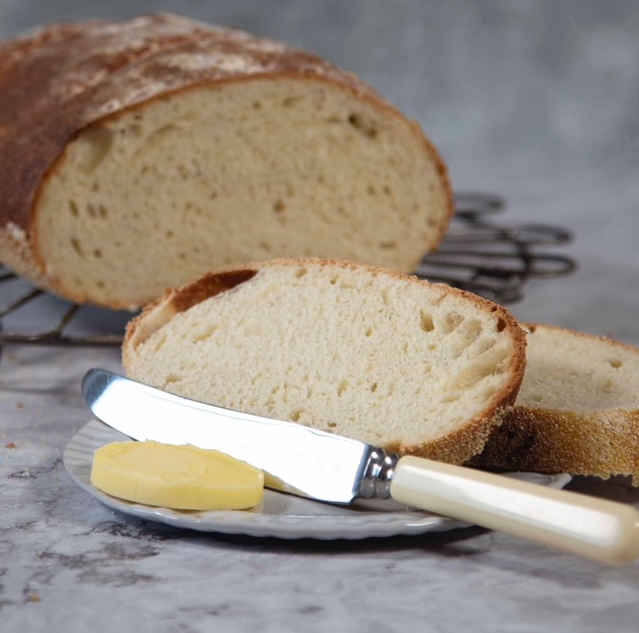 Address:
4 Wilkins Close, Shipston on Stour
Warwickshire, CV36 4GH
Follow Us On Social Media
Reservation Number:
07786 838294