Try these summery Lemon Thyme and Blueberry Friands -perfect for a weekend treat! (adapted from a Waitrose recipe)
Ingredients:
200g unsalted butter, plus 10g for greasing
70g plain flour, plus extra for dusting
200g icing sugar, plus extra for dusting
150g ground almonds
½ tsp salt
5 egg whites (about 200g)
1 unwaxed lemon, zest of all, juice of ½
1½ tbsp lemon thyme leaves, chopped, plus extra to serve (optional)
150g blueberries
flaked almonds for topping
Recipe:
Preheat oven to 160 degrees fan/180°C. Melt 200g butter in a small saucepan over low heat, set aside to cool for 15 minutes. Melt remaining butter in the same pan and use to grease a 12-hole friand (or muffin) tin. Dust the friand wells with flour, tilting to coat the sides, tap out the excess; chill.
Sift flour and icing sugar into a large bowl, add the ground almonds and salt; and mix to combine. Put the egg whites in a separate bowl and use a fork to froth them up for a few seconds. Pour into the dry ingredients with the cooled, melted butter. Stir until incorporated, then add the lemon zest, juice and lemon thyme. Mix into a batter. Fold through 50g blueberries.
Remove the tin from the fridge and divide the batter between the 12 holes. Scatter over the flaked almonds and add a few blueberries to each. Bake for 30-35 minutes until golden and a skewer inserted comes out clean. Leave to cool for 10-15 minutes before easing the friands from the tin. Allow to cool completely. Sift over a dusting of icing sugar to finish.
Let's Bake Together!
Our Face to Face Classes have now started.  Click Here to find out more.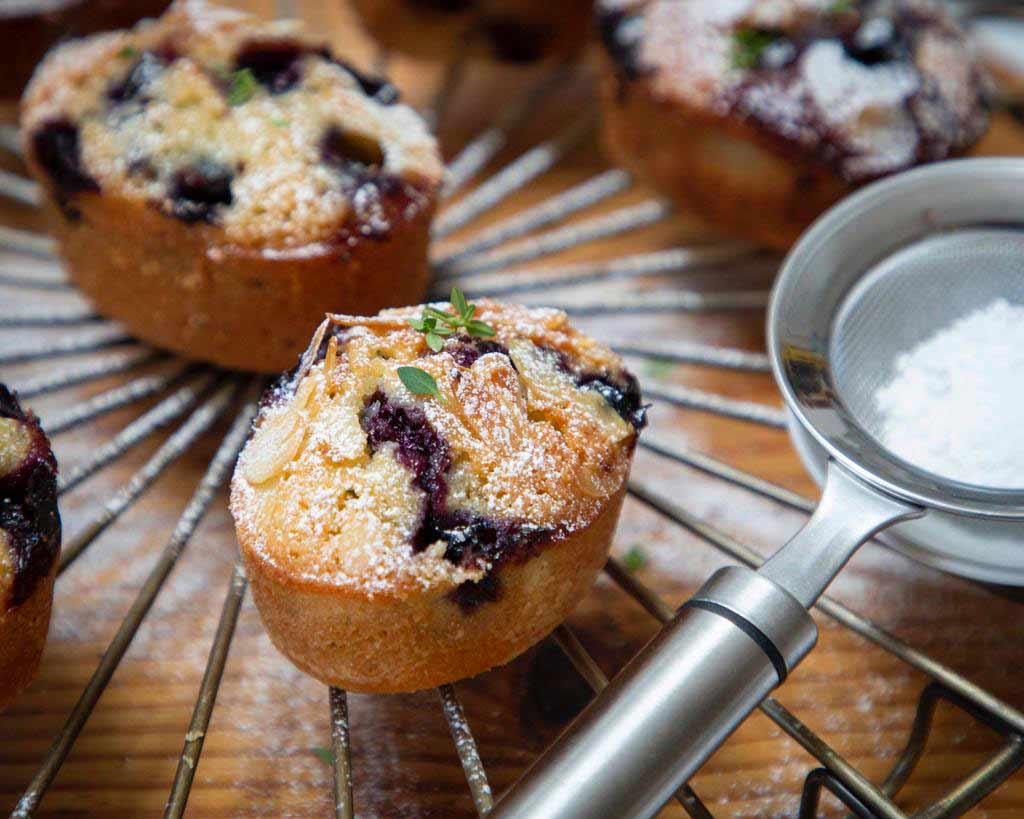 Address:
4 Wilkins Close, Shipston on Stour
Warwickshire, CV36 4GH
Follow Us On Social Media
Reservation Number:
07786 838294