An apple a day keeps the blues away – especially when it's baked in a cake! Try my easy recipe for apple streusel cake.
Ingredients:
4 medium sized cooking apples
juice ½ lemon
225g unsalted butter, well softened
280g caster sugar
4 eggs
2 tsp vanilla bean paste
350g self-raising flour
2 tsp baking powder
Streusel:
60g plain flour
50g light or dark brown sugar
25g oats
60g cold unsalted butter, cubed
Pinch of salt
Recipe:
Preheat oven to fan 170/ 180C. Butter and line a rectangular baking tin (approx 27cm× 20cm) with nonstick baking paper. Make the streusel topping by rubbing all of the ingredients together until coarse crumbs form. Peel, core and thinly slice the apples, squeeze the lemon juice over, and set aside. Place the butter, caster sugar, eggs, vanilla paste, flour, and baking powder into a large bowl and mix well until smooth. Spread half the mixture into the prepared tin. Arrange half the apples over the top
of the mixture, then repeat the layers. Sprinkle over the streusel topping.
Bake for 45-50 mins until golden and a cocktail stick inserted into the centre comes out clean.
Let's Bake Together!
Our Face to Face Classes have now started.  Click Here to find out more.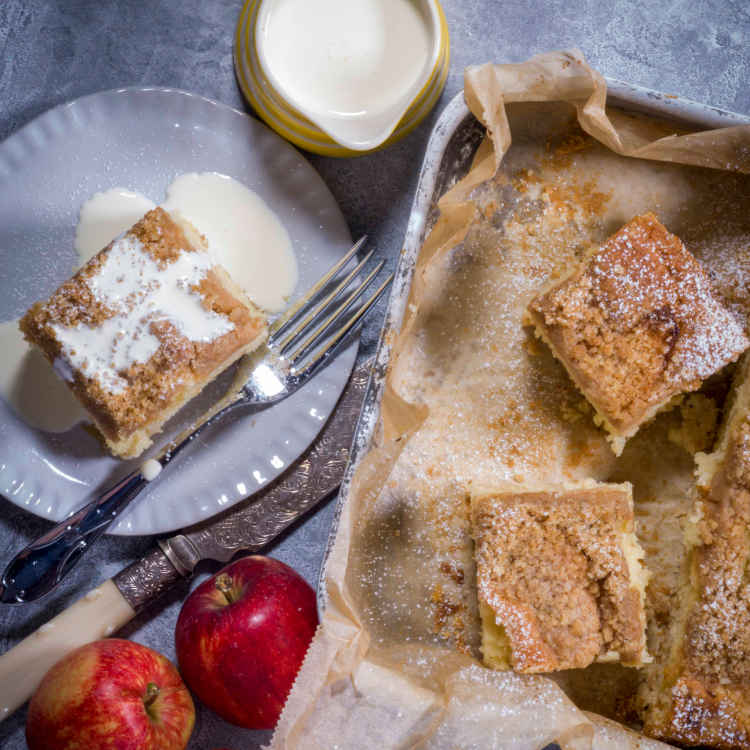 Address:
4 Wilkins Close, Shipston on Stour
Warwickshire, CV36 4GH
Follow Us On Social Media
Reservation Number:
07786 838294