Here's a winner of recipe for an
APRICOT & RASPBERRY CAKE

The perfect cake for late summer. Enjoy!!
Ingredients:
175g self-raising flour
200g softened butter
2 tbsp demerara sugar
2 tsp cinnamon
175g caster sugar
3 eggs
2 tsp vanilla extract
6 apricots, stoned and sliced
200g raspberry, fresh or frozen
Recipe:
Heat oven to 160C/fan 160C/gas 4. Butter and line
the base of a 23cm square tin. For the crumble mix, put 2 tbsp flour and 25g of the butter with the demerara sugar and cinnamon in a bowl. Rub between your fingers until it resembles damp breadcrumbs.
Tip the remaining flour and butter and the caster sugar, eggs and vanilla in a bowl, then beat until well
combined. Lightly fold in half the apricots and raspberries, then spread over the prepared tin.
Scatter over the remaining fruit, then sprinkle with the crumble mix. Bake for 45-50 mins until light golden, then cool for 10 mins and remove from the tin. Cut into squares and serve warm with cream or ice cream for dessert, or cold for tea.
Let's Bake Together!
Our Face to Face Classes have now started.  Click Here to find out more.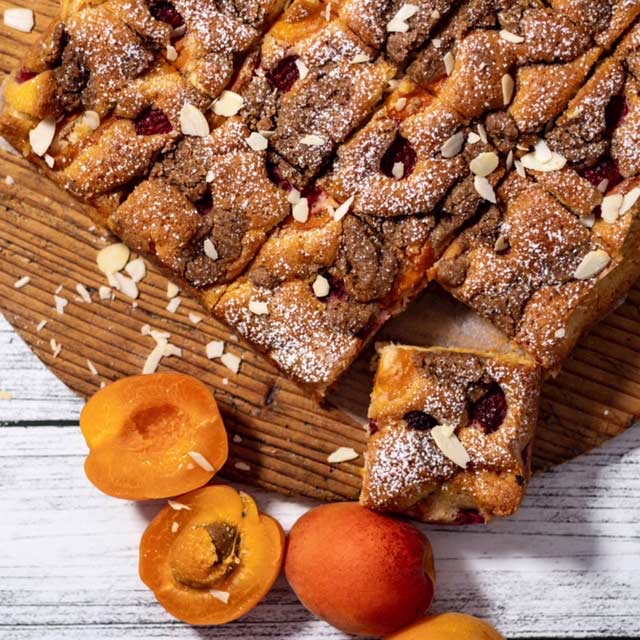 Address:
4 Wilkins Close, Shipston on Stour
Warwickshire, CV36 4GH
Follow Us On Social Media
Reservation Number:
07786 838294