Recipe for salted brownie batter studded with chocolate chips. Makes a Baker's Dozen and is a great Chocolatey Bake!
Ingredients:
50g plain flour
7g cocoa powder
1/2 teaspoon baking powder
Pinch of salt
112g dark 70% chocolate
29g unsalted butter
1 medium egg
52g caster sugar
52g light brown soft sugar
1/2 teaspoon vanilla extract
40g dark chocolate chips
Flaky sea salt, optional
Preheat oven to 160fan/180C. Prepare two baking sheets with nonstick baking paper. Sift the flour, cocoa, baking powder, and salt together and set aside. Place the 112g dark chocolate and butter in a heatproof bowl over a saucepan of barely simmering water, melt, and allow to cool slightly. Beat the egg, both sugars, and vanilla together for 4-5 minutes. Add the cooled melted chocolate and butter and combine, add the flour mixture and combine just until the flour is incorporated. Stir in the chocolate chips. Drop spoonfuls of the mixture onto prepared baking sheets and bake approximately 12 minutes until set and crinkled on the top. Sprinkle with flaky sea salt immediately after baking if desired.
Let's Bake Together!
Our online Zoom baking classes make the perfect gift. Buy Online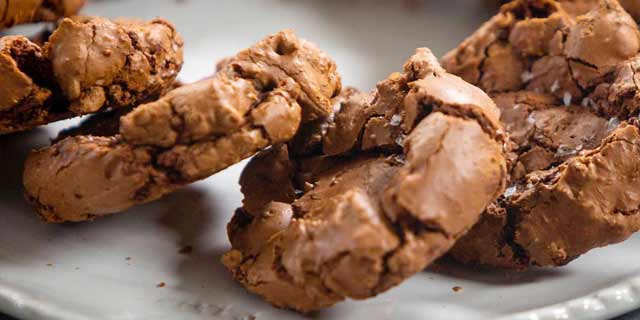 Address:
4 Wilkins Close, Shipston on Stour
Warwickshire, CV36 4GH
Follow Us On Social Media
Reservation Number:
07786 838294