Today I wanted to bake just for us and make something to have over the next few days with a coffee. When this mood strikes, I will often go back to my roots and make something with an American twist. These scones are like the ones you get in high-end coffee shops rather than traditional British ones.
Maple Walnut Scones (American style) Recipe

Ingredients:
125g strong white bread flour
125g plain flour
50g light brown muscavado sugar
13g baking powder
Generous pinch of salt
70g walnuts, toasted and chopped
113g unsalted butter, frozen and grated
50g egg (medium)
70g double cream
70g maple syrup
Topping:
15g double cream
15g maple syrup
Glaze:
70g icing sugar
50g maple syrup
Preheat the oven to 170 degrees fan/190 C. Mix the dry ingredients in a large bowl apart from the walnuts. Add the grated butter and toss together to coat the butter with flour (this can also be done in a food processor but don't overwork it!), add the walnuts. In a jug, mix together the egg, maple syrup, and cream. Make a well in the centre of the dry ingredients and add the wet ingredients; stir together lightly to combine but do not over mix. On a sheet of nonstick baking paper or silicone mat, pat the mixture into a 17cm-diameter round and cut into 6 wedges. Mix the maple syrup and cream and brush on top of the wedges. Bake 20-25 minutes until golden brown. Meanwhile, stir together the maple syrup and icing sugar to make a thick glaze. Allow scones to cool slightly before glazing. Spoon or pipe the glaze over the top of the scones and allow to set.
Our online Zoom baking classes make the perfect gift. Buy Online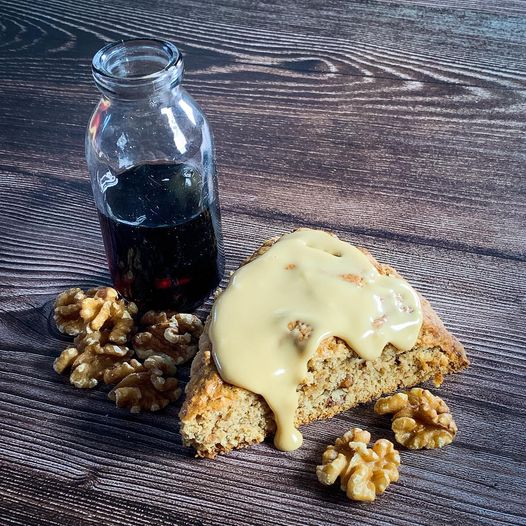 Address:
4 Wilkins Close, Shipston on Stour
Warwickshire, CV36 4GH
Follow Us On Social Media
Reservation Number:
07786 838294