Valentine's Day
CHOCOLATE SLAB
Are You Baking this Valentine's Day? Here's a quick and easy recipe for a delicious chocolate treat!
Valentine's Day Chocolate Slab Recipe
200g 70% dark chocolate
100g white chocolate
Assorted toppings such as chopped toasted nuts, dried fruit, and freeze dried raspberries, I used chocolate hearts and red and white sprinkles for Valentine's Day
Melt the chocolates separately in two bowls over gently simmering water. Be careful not to let the bowls touch the water or the water to boil too vigorously or the chocolate will burn. Let the chocolates cool for about 10 minutes. Pour the dark chocolate onto a lined baking tray and spread out to a rough rectangle. Spoon the white chocolate on top of the dark chocolate and swirl with a cocktail stick to make a pattern on top. Top with nuts, dried fruit, etc. and set aside to harden. Store in an airtight container.
This recipe can be easily adapted to different holidays and seasons.
Our online Zoom baking classes make the perfect gift.
Buy Online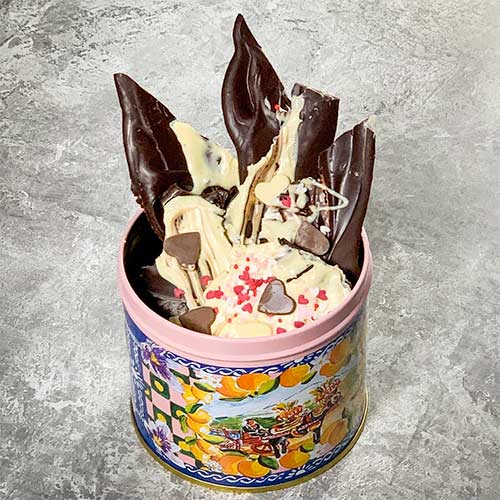 Address:
4 Wilkins Close, Shipston on Stour
Warwickshire, CV36 4GH
Follow Us On Social Media
Reservation Number:
07786 838294