Three Generations
BAKING TOGETHER
A bit of seasonal baking today using some of the Seville Orange marmalade I made a few weeks ago.
Crunchy Topped Orange Polenta Cake Recipe
Cake Ingredients:
250g unsalted butter, well-softened
250g golden caster sugar
200g eggs, beaten (approximately 4 medium sized)
140g polenta
200g plain flour, sifted
2 teaspoons baking powder, sifted
2 heaped tablespoons Seville orange marmalade
Topping:
100g granulated sugar
Juice of 1/2-1 whole orange
Preheat oven to 140 degrees fan/160 degrees C. Line a 23-cm deep round baking tin with nonstick parchment paper. Beat the butter and sugar until light and creamy. Add beaten eggs in stages, scraping down the side of the bowl after each addition. Fold in the flour, baking powder, and polenta, take care not to over-beat the mixture. Stir in the marmalade, and transfer to prepared baking tin. Bake for 1 hour and 10 minutes, until golden brown, pulling away from the side of the tin, and a skewer comes out clean. If the cake is browning too quickly, place a piece of foil over the top.
Mix topping ingredients together until a pouring consistency is reached (depends on how large and juicy your orange is) and spread on top of the cake while it is still warm from the oven. The sugar will harden and form a crunchy topping.
Allow the cake to cool before removing from the tin and store covered in an airtight container.
Our online Zoom baking classes make the perfect gift. Buy Online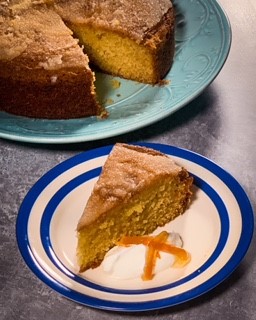 Address:
4 Wilkins Close, Shipston on Stour
Warwickshire, CV36 4GH
Follow Us On Social Media
Reservation Number:
07786 838294